Final Update:
Numbers are out! Here are the winners:
(the numbers are under the word "Result". The winners are the
Bottom most
numbers.)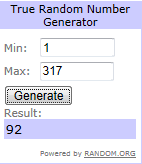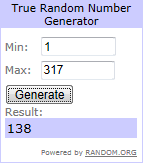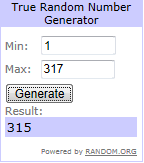 I used the generator from
www.random.org/
I'll be giving the subs in a few minutes. I really hope i got the people with the right numbers O_O;;
Thanks everyone who participated and were super nice <3 Congrats to those who won

~~ I love you guys lots! Merry Xmas and have a good end-of-the-semester and holiday

.
hope that's everything xD;
========================
/update: this is a 24h notice. This will close in 24.5 hours xD.~ g'luck everyone





Merry Christmassssss!!




early. 8D;;
Okay, this is going to happen earlier because the give one get one free sub thing is going on, and I was going to do this this year anyways, so I might as well do this now cause my sub is running out in a few days, hahaha;;
I have enough points to give 4 three-month subscriptions (technically i have enough for 5, but I wanna save one for maybe next year

)
I do this to thank everyone who's watched, commented and faved my stuff <3~ Thanks guys

This is also possible only because lots of people donated points to me! so this is all thanks to them!

Like I promised, I'll use this for giveaways. xD~
Please read this!! Rules and how it works:

1. Comment on this journal (say something more interesting than "comment"? lol, c'mon guys, have fun with this xD)

2. I will reply with a number. Please only comment once.

3. In 48 hours, at 11:30am Ontario, Canada time, I will be drawing 4 random numbers from a random number generator.

4. I will update this journal with the numbers. Please come forward with your number and a link to your comment and note them to me to recieve your gift.

5. You must not have a subscription already (unless your subscription is running out in one month or less). I will give you a #, but if you have a sub already and win, I will draw for another number to replace you.

I would say that I'd like you to be a watcher, but as I have too many watchers, there's no way to check that v__v;;, but please, this is only a giveaway for my watchers. Thank you for your consideration!
But anyways, if you still don't understand how this works, please refer to the last time I did this:
qinni.deviantart.com/journal/R…
I will not have time to reply with anything but a number~ sorry >.<;;
Thanks for this awesome year, guys

~ I hope I will have more great stuff to show you guys in the future. On that note, I actually got a freelance job with a studio I really want to work for, so I'll be updating even less

. Sorry >.<;. but I'm really happy about the freelance job, hahaha.
but here's an update on GLaDOS 8D 8D. i got her face right!